Trainee Programme in Recruitment
Training and Career Development
We have a dedicated training programme that doesn't stop once you've learnt the basics. The programme is constantly tweaked and adapted as the market conditions dictate. As you progress, you will continue to work directly with our Business Leaders and Directors on a monthly basis, creating a bespoke career training plan that is led by your interest. For example, you may wish to focus on the wealth of legislation that affects the recruitment industry or develop your networking skills, presentation skills, etc.

We are constantly seeking to identify colleagues with the ability to step up into a leadership position, leading and managing their own team and business units.
What's in it for me?
Professionally
• A dedicated training programme at the start of your career
• Bespoke training schemes as you advance
• A published career path so you know exactly what you need to achieve to be promoted again and again
• Socially responsible recruitment market, where you will make a genuine impact on the Infrastructure of the UK
• Our clients are major Blue Chip, International Consultancies and the Leading Local Authorities
• Pay and Rewards
• Set increases to basic salary on achievement of core stages
• Increasing rates of commission on all sales
• Loyalty and time served rewards
• A variety of benefits over time, such as extended midday breaks for the gym, pension, health packages etc
Socially
We have a dedicated company programme of 7-8 major company events spread across the year, ranging from Black Tie Christmas events, Quad Biking, Ascot ladies day, Go Ape, Wine Tasting and Comedy Shows.
Fulfilling
In time, you will master your area of expertise and will be working with the largest clients within our sector. You will be well remunerated, and have the opportunity to grow your own team, as a Team Leader and Manager. For those with the biggest drive, you can evolve your own business unit becoming a Recruitment Director.
Day in the life of a Recruitment Consultant
Our days are varied and adapt to the demands of the clients and candidates, but a typical day may look like this:

A profile of a successful Trainee Recruiter (a rough guide)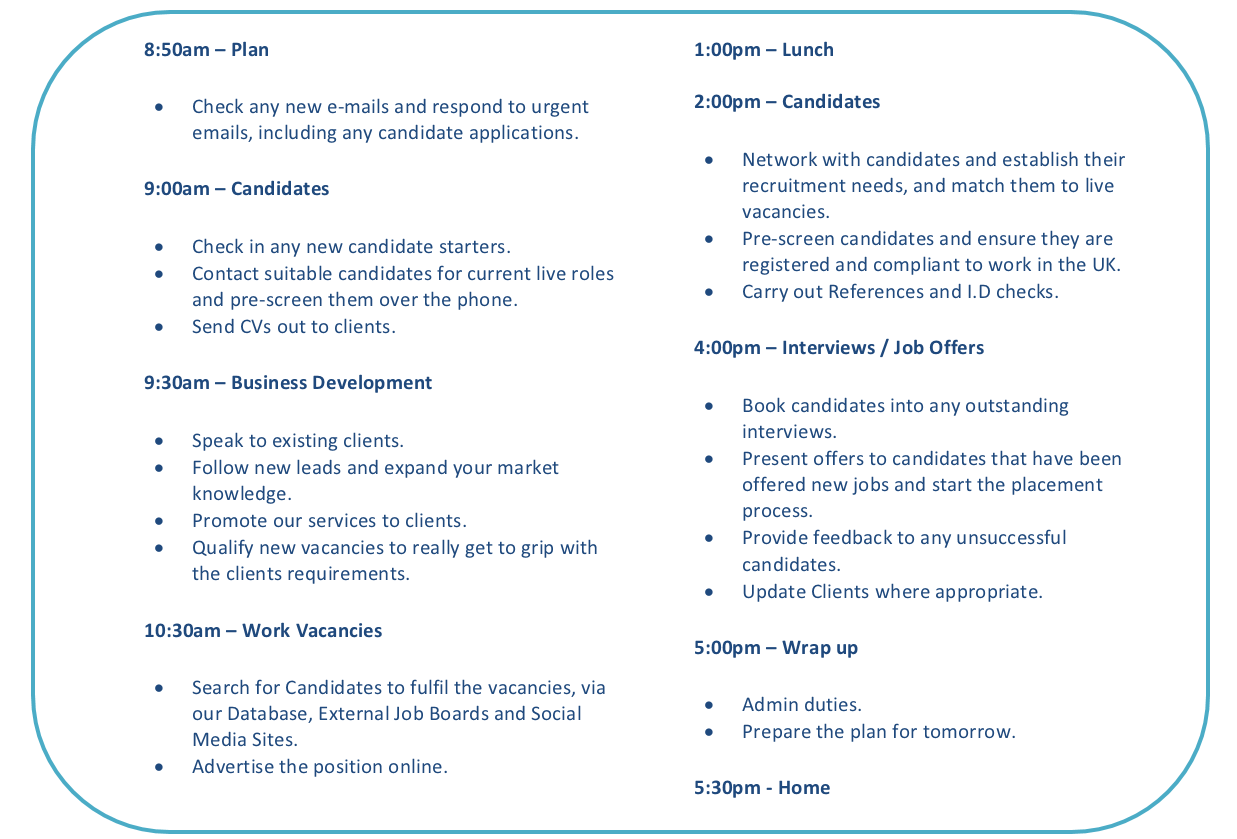 A Typical Recruiters Day
These requirements do vary from Recruitment Consultancy to Recruitment Consultancy; some want you to be prepared to sell your own kidney (or someone else's). However, this is a rough guide of what we look for here;
• Someone with integrity, morals and ethics
• A hard worker; to be honest the most successful recruiters work harder than the competition, there is no magic formula
• Thick skinned, but not thick
• An independent mind-set; someone who can carry out research, but not as a loner, you must have the ability to work within a team
• Someone who has proven and continuous stepped improvements in their output, this could be academically increasing their grades, or through sports, improving their performance
• A talker; ideally with candidates and contacts, not colleagues
So why work with our team?
Genuinely we have strong ethics and values and we believe you must share these values too. We deal with people's lives, careers, hopes and aspirations. You will impact not only their quality of life, but that of their immediate family, often in ways that you only realise after a successful placement. The candidates themselves work in sectors that impact the whole of society, improving our Infrastructure in the Private and Public Sector.
Have a look at the recruitment adverts from our competitors again. They are usually about making money only. That's great, but isn't totally fulfilling in the long term.
Does the Infrastructure Recruitment sector interest you?
Recruitment should be something you do as a career for a long time, and thus the sector you specialise in should interest or intrigue you. Now don't get me wrong, most of us had no idea what Infrastructure Recruitment was when we first started. You do not need to be an Infrastructure guru or an engineer to succeed, but liking the sector and becoming interested in your market helps you develop as a consultant. Most people just don't realise how big the Infrastructure world is, and yet it is literally all around us. So in the Private Sector our candidates' Design, Engineer, Survey, Build, and Project Manager major infrastructure projects, like Crossrail (a huge new railway under London) or High Speed 2 (a really fast one between the North and South). Chances are if you go through London Bridge over the next few years as it's being developed, you are experiencing our work as we provided designers to the major engineering consultancies involved.
In the Public Sector our candidates maintain the IT, consultant on HR Issues, market the council, undertake Town Planning, Building Surveying, Traffic Modelling and provide revenue and benefits services. In a nutshell, we are involved in the majority of Infrastructure services that keep the Local Authorities running and thus local society.

Please email your CV directly to recruit@cpresourcing.co.uk.